Next Generation Augmented Reality HUD Demo Car
design engineers
Panasonic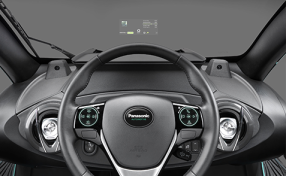 General Information
| | |
| --- | --- |
| The Product | Next-Generation Augmented Reality HUD Demo Car |
| Product Information | Panasonic's Next-Generation Augmented Reality HUD demo car can project large images in distances up to 10m and allows drivers to keep their eyes on the road and stay informed. The system is self adjusting to the drivers viewpoint and augments the outside view with information from a camera system. |
Key Features
AR HUD

The Twizy is equipped with a real Augmented Reality HUD with 12⁰ x 5⁰ image size in a very compact package. The projection distance is 10 meters.

It will also be able to detect the side of the road and will use that as a reference to place AR content.

Automatic Adjust

The HUD will automatically adjust to the view of the driver by using stereo driver camera. The adjustment is done by rotating the whole HUD package.

Object recognition

The car will be able to recognize objects in front of the car and will warn the driver by displaying alerts in the HUD. If the object is in the HUD view, red squares will be shown around the recognized objects.

 

Car Interface

On the steering wheel there is special capacitive touch input panels installed that gives the driver the possibility to change the settings via a menu that is visible on the HUD.

Night Vision

A Night Vision camera system enables object and hazard detection in the darkness.

Adaptable HMI

The system is providing several ways that will change the layout of the widgets shown in the HUD. The driver himself can change the static layout, however also depending on context (e.g. potential danger detected), the system will decide to give special focus on specific information.

No Instrument Cluster

The HUD is replacing the Instrument cluster. The HUD will display all information that was shown on the original cluster.

Camera

The car is equipped with 9 cameras:

Rear view camera
Front view camera
Down side view camera (2x)
Night vision camera
Side view camera (2x)
Head tracking camera (2x)

Some sources will be stitched together and the content is being made available in the HUD.

Single Computer

The Cameras, HUD, Object recognition, Head tracking system is all run on a single computer platform.