Welcome to the Panasonic Automotive Career Page
Panasonic Automotive is one of the world's largest manufacturers of car infotainment products, rear view camera systems, control units, changers and components for leading European and Japanese automakers.
To achieve excellent business performance in a dynamic environment, we give our employees exciting new challenges and continuously enhance their skills and competencies.
"People Before Products …

As one of the largest electronic companies in the world,
we give opportunities to ambitious people, to create
and market innovative products and solutions that
enrich lives all around the world."

Konosuke Matsushita
The comment and core value reveals the attitude and the commitment of Panasonic Automotive towards their employees. We believe that creative and proactive talents will support the future of our company.  We are looking for people with the willingness to acquire new knowledge and skills and to be able to cooperate across different divisions, countries and cultures.
Looking for a challenging and rewarding career? View our current vacancies:
TO THE PANASONIC EUROPEAN CAREER PORTAL
We offer positions in the field of Engineering, Software, Quality Assurance, System Engineering, Purchase, Finance & Accounting, Marketing, Human Resources.
Students / Diploma or Master Thesis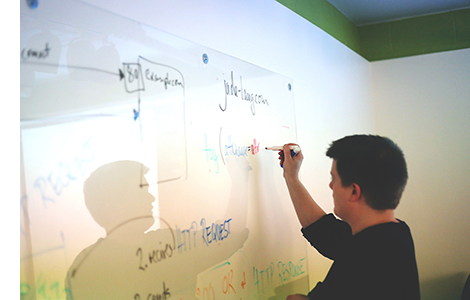 Panasonic Automotive is giving the opportunities to support students who reflect our social responsibility and the general commitment we have towards society. Students with an excellent academic background have the chance to gain first work experience in the different areas of our Automotive Business and through having the opportunity to write their project based diploma thesis internally.
Whether you are a student searching for a first work experience or a professional who is looking for a challenging new job – Panasonic Automotive can offer you a wide range of interesting positions all across Europe.
If you have not found the right position, then you can send us an unsolicited application. We will look to see if there is a suitable position for you or if we can support you with your project based diploma or master thesis.
For questions you can contact us via our contact form.