Land Rover Velar Dual Display Solution
design engineers
Panasonic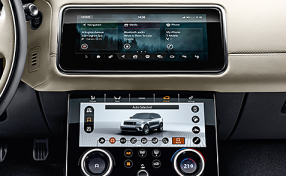 Velar features world-first debut of Panasonic Automotive's latest infotainment innovations
Touch Pro Duo showcases Panasonic's industry-leading technology through seamless integration of touch and display surfaces made possible by innovative manufacturing techniques
Twin-screen interface works in harmony with a full color head-up display allowing greater visual comfort and driver focus, making in-car features available to driver in clear, unobtrusive fashion
Velar also features further leading Panasonic technology in the form of Nanoe™ air purification and latest microphone systems
Suite of infotainment technologies and production techniques on Velar further underlines Panasonic as a leader in quality and innovation 
Featuring two 10-inch high definition screens, a color head-up display and tactile user controls, Touch Pro Duo is the perfect centrepiece of Velar's beautifully minimalist interior.  Clear, adaptable and intuitive, Touch Pro Duo allows the driver to focus on whatever terrain comes ahead, mixing stylish secret-until-lit surfaces with simple to understand displays and form paired perfectly to Velar's design.
Intuitive interface with high resolution displays
The upper screen acts as the primary interface, and as with the lower screen, is a 10-inch high definition 2k resolution display. It presents navigation, media and phone to the driver and features a 30-degree tilting mechanism. This can be adjusted to the optimum viewing angle in response to sunlight and shadows. Returning to the flush position when the ignition is switched off, the screen returns to the previously chosen angle upon ignition. Interaction is as intuitive as a smartphone or tablet: the driver simply swipes, pinches or scrolls.
The lower display screen is integrated within the curved central console and displays air conditioning, dynamic stability and hill descent functions with clear and direct inputs rather than complicated menus. Both screens utilise an anti-scratch, fingerprint-resistant touch surface and present information as if floating free of the display surface. What's more, the twin-screen set-up allows the driver to interact with more features, for example controlling media on the lower screen while viewing navigation on the upper.
Digital meets analogue thanks to tactile rotary controls
Machined from solid aluminum, Multi-Function Dynamic Dial controllers – developed from Panasonic's Magic Ring Control System – sit alongside the screen's touch controls. This marriage of digital and analogue further adds to the instinctive operating system of Touch Pro Duo, allowing the driver to operate functions on the display just by his or her fingers. Rising silently from the center console on start-up, the satin chrome bezels feature a rubberized outer surface and are reconfigurable to handle multiple functions: capable of controlling everything from cabin air temperature to massage seat settings or Terrain Response Mode.
Additionally, fully configurable touch sensors are found beneath these controllers, unlit and hidden unless in use. These control everything from Dynamic Stability to Hill Descent Control.
This whole system then integrates seamlessly with the Velar's uncluttered interior design. The screens – made up of delicate layers of touch foils, prints, tints and optical resins –  use optical bonding and are housed in flowing polycarbonate, which allows a high-resolution display to have curved edges yet be capable of exceptional image quality. This is a result of Panasonic's research into state-of-the-art manufacturing techniques, which have led to the development of a process that ensures quality fit and finish with no compromises on design or clarity.