Panasonic Jaguar Racing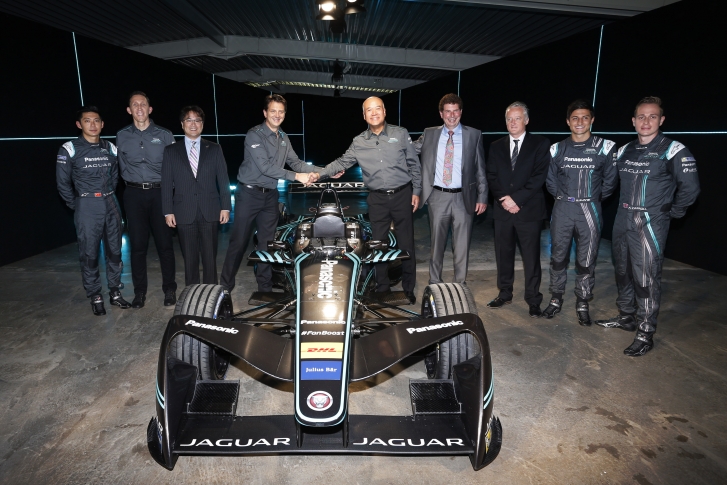 Panasonic announces sponsorship of Jaguar's new FIA Formula E racing team: Panasonic Jaguar Racing
 
Leading electronics company Panasonic enters ground-breaking venture with Jaguar in all-electric global racing series
New FIA Formula E team, Panasonic Jaguar Racing, will make its competitive debut in Hong Kong on 9 October 
All-electric motorsport series' race-to-road ethos key to the development of the electric road car and electric mobility  
Panasonic already supplies many of the world's biggest car companies with electrical components and develops key next-generation technology
Driving the change towards an electric future
Langen, 8 September 2016
Panasonic Corporation is delighted to announce a sponsorship deal with Jaguar to compete in the FIA Formula E Championship. Launched today at the Jaguar Heritage Trust at Gaydon, UK, the new team – Panasonic Jaguar Racing – will debut in the first race of the new season in Hong Kong on Sunday 9 October.
Formula E is a ground-breaking single-seater championship and the world's first all-electric motorsport series. Formula E's goals are to raise awareness and speed up development of electric road cars, reduce emissions and improve e-mobility.
At the forefront of e-mobility, Panasonic is a supplier to many of the world's biggest car companies thanks to expertise in battery tech, inverters and chargers. Plus, its portfolio also includes connectivity and infotainment technology. 
Panasonic already supplies Jaguar with head-up displays and more, and it will now work closely with the racing team. EVs will be key in the portfolios of these two strategic partners, and lessons learned on the track will be applied to future tech.
Masashi Nagayasu, Vice President, Automotive & Industrial Systems Company, Director, Automotive Marketing & Sales Division, commented: "Panasonic is excited to announce this landmark partnership. Panasonic is already a world-leader in e-mobility, and will build on this through Formula E.
"Fast-tracking next-gen product development, reducing emissions and being more sustainable is crucial to us and Formula E is a perfect fit. We have no doubt that the series will revolutionise e-mobility – and we want to drive this change."
James Barclay, Panasonic Jaguar Racing Team Director, said: "We're delighted to pair up with Panasonic. It's a world-leading electronics company with a first-class reputation for quality, integrity and innovation. By competing in Formula E and accelerating the development of critical tech, Jaguar intends to be at the forefront of the electrification of the car industry."